Whatever your needs from a hotel, you can find one that offers the peace of mind of Pure Rooms in just about every part of the country. This includes high-end, boutique properties in cities like Washington DC. The next time you're in the nation's capital, why not indulge in a luxurious stay at one of these upscale hotels?
Traditional style meets contemporary comfort at The Melrose Georgetown Hotel, with modern amenities set against a neutral backdrop of gray, navy, cream and green accents. Pure Rooms at The Melrose eliminate contaminants to create a hypoallergenic environment in your guest room. Don't miss Jardenea, the hotel's signature restaurant, for seasonal menus made with locally-sourced ingredients.
Up near Embassy Row, The Churchill Hotel features striking decor inspired by the elegance of the 18th-century for an ambiance like none other. Private dining is available at Chartwell, which serves classic American cuisine in a casual chic atmosphere. Wellness-minded travelers choose Pure Rooms at The Churchill to promote self-improvement with purified air and allergy-friendly bedding.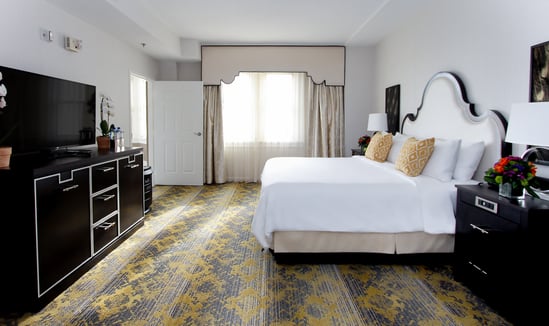 Bold wood accents and a rich, warm palette make The St. Gregory Hotel a sophisticated property for cosmopolitan travelers. The health club quality fitness center is fully equipped with Peloton bikes to help maintain your at-home exercise routine. Savor thoughtful touches like afternoon tea or rub elbows with the Washington elite around the stunning bar at the Ellington Park Bistro.
Rejuvenate with Pure Rooms at one of these exceptional hotels and discover luxury along with a guest room experience that promotes well-being during your stay in DC.