Located just outside Washington in Arlington, VA, Crystal City is an exciting urban village comprised of interconnected office, retail and residential high-rises. Residents and visitors to Crystal City can work, shop, dine and live within this underground city without having to go outdoors.
Wellness-minded travelers will find two distinctive hotel options in Crystal City that offer the peace of mind of Pure Rooms. The stylish and modern Crystal Gateway Marriott is just steps from Pentagon City and the new National Landing development. With generous accommodations and a complimentary hot breakfast, the Embassy Suites Crystal City National Airport is ideal for both families and business travelers.
At either property, guests can stay in a Pure Room during their time in Crystal City. Pure Rooms eliminate contaminants to protect against 99.99% of viruses, bacteria, allergens and other harmful particles for the highest quality guest room experience. With allergy-friendly bedding and purified air, Pure Rooms at the Crystal Gateway Marriott and the Embassy Suites Crystal City National Airport create a hypoallergenic environment that promotes well-being when you travel.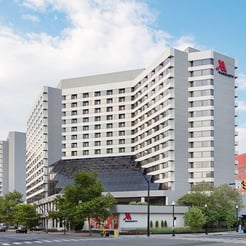 Smart TVs, walk-in showers and expansive city views make it easy to relax and rejuvenate with Pure Rooms at the Crystal Gateway Marriott. The wellness experience at the Crystal Gateway Marriott also includes a spacious fitness center and on-site dining at 15th and Eads with fresh, local ingredients. The hotel's expert planning staff can help you organize a wedding, conference or other event in the transformed Arlington Ballroom with seating for as many as 2,100 guests.
At the Embassy Suites Crystal City National Airport, each Pure Room is a large, two-room suite with separate living area. This dynamic, atrium-style hotel also features a modern fitness center with free shuttle service to the airport. Socialize with friends or colleagues at the complimentary evening reception or order room service from Tap Twelve, the hotel's casual, contemporary American restaurant.
Both hotels are within two miles of Reagan National Airport for fast and convenient access to the nation's capital. Walk to the Crystal City or Pentagon City metro stations and explore downtown Washington DC as well as other area attractions like Old Town Alexandria. Whatever you're looking to do around DC, the Crystal Gateway Marriott and the Embassy Suites Crystal City National Airport offer a guest room of choice with Pure Rooms that helps promote self-improvement and well-being.