For an unsurpassed hotel experience in Washington DC, look to the Melrose Georgetown Hotel near Washington Circle and Foggy Bottom Metro Station. Rated among the 10 best luxury hotels in the city, the Melrose offers distinctive service in sleek and sophisticated surroundings just steps from the best to see and do in DC.
Founded in 1775, Georgetown is home to Washington landmarks as well as upscale shopping, dining and entertainment. The Melrose is located in the heart of this vibrant and prestigious neighborhood along the scenic Potomac River. From world-class theater and galleries to the renowned sights of the National Mall, the Melrose makes it easy to explore the area's countless cultural and historic attractions.
With striking, art-deco inspired decor, the Melrose offers elegant and luxurious spaces to enjoy during your time in DC. Each stylish guest room and suite is individually decorated with contemporary acrylic artwork in a chic palette of gray, navy, cream and bold accents of green. Upscale furnishings, plush bedding and black granite bathrooms allow guests to relax and rejuvenate amid the energy and excitement of the nation's capital.
These exceptional accommodations include Pure Rooms, which provide wellness-minded travelers with purified air and the highest quality guest room experience. Pure Rooms eliminate contaminants for anti-viral and anti-microbial protection against 99.99% of harmful particles and irritants. With allergy-friendly bedding and other wellness amenities, Pure Rooms promote well-being and peace of mind wherever your travels take you.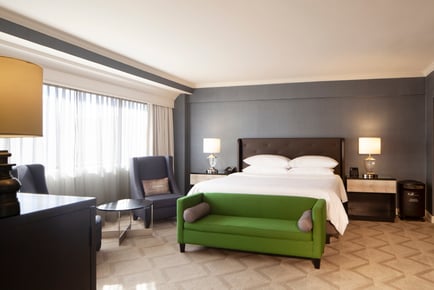 Washington's thriving and diverse culinary scene includes Jardenea, the Melrose's sumptuous signature restaurant. Derived from the French word for garden, the menus at Jardenea feature farm-to-table cuisine that makes use of local and sustainably sourced ingredients to reflect regional flavors. Handcrafted cocktails pair with inventive small plates at Jadenea Lounge to help create one of the best happy hour scenes in the neighborhood.
For a guest room of choice that promotes self-improvement and peace of mind, stay in a Pure Room at the Melrose Georgetown Hotel on your next trip to Washington. Pure Rooms at the Melrose bring you a true wellness experience with some of the city's most distinguished and indulgent accommodations.