Travelers choose the Embassy Suites Palm Beach Gardens PGA Boulevard for its unique combination of style and convenience. Modern describes both the hotel's design and its list of amenities, including allergy-friendly bedding and the hypoallergenic environment of Pure Rooms.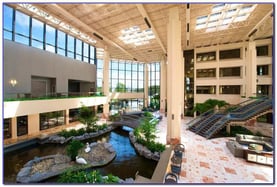 The first thing guests are sure to notice is the striking glass facade that opens onto a soaring, sun-filled atrium with water garden. Additionally, the Embassy Suites Palm Beach Gardens offers a complimentary hot breakfast daily.
The Embassy Suites Palm Beach Gardens PGA Boulevard is within a short drive of two major event venues, Roger Dean Stadium and FITTEAM Ballpark, which host minor league baseball and spring training games for multiple professional teams. Other conveniences and family-friendly attractions include the Gardens Mall, Rapids Waterpark and the area's spectacular beaches closeby. Palm Beach is home to numerous golf courses as well, including the renowned PGA National Golf Center just across the street.
Business travelers will find more than 13,000 square feet of available event space, making the Embassy Suites Palm Beach Gardens PGA Boulevard a great place for business meetings, conferences and other professional gatherings. With a dedicated planning staff, on-site catering and the ability to accommodate up to 500 guests, the hotel enables businesses to host both large and small events at a highly desirable destination.
Whatever the reason for their visit, guests will also appreciate the availability of Pure Rooms, which wellness-minded travelers choose for peace of mind and a holistic wellness experience. Pure Rooms eliminate contaminants and provide anti-viral and anti-microbial protection against 99.99% of viruses, bacteria, allergens and other harmful particles. The result is a guest room of choice that promotes wellbeing and can help you be your best away from home.
For an exceptional guest room experience, stay in a Pure Room at the Embassy Suites Palm Beach Gardens PGA Boulevard. The hotel allows travelers to rejuvenate and helps to promote self-improvement amid gorgeous surroundings.