For a truly memorable stay in the nation's capital, wellness-minded travelers choose the chic and stylish Melrose Georgetown Hotel. This historic property features striking decor as well as the peace of mind of Pure Rooms to help you relax and rejuvenate.
Centrally located in one of Washington's most exclusive neighborhoods, the Melrose Georgetown Hotel is near the Foggy Bottom Metro Station and within walking distance of countless museums, monuments and other attractions. Explore the vibrant dining scene and boutique shops along Georgetown's charming streets or the Potomac waterfront. Whatever you're looking to do in the area, the Melrose Hotel provides luxurious accommodations that make it easy and convenient.
The Melrose Hotel combines a classic sensibility with sophisticated, modern design for a unique experience in this exciting destination. Generous and thoughtfully crafted common areas make the Melrose's lobby an ideal spot to meet with friends and colleagues or to just see and be seen in Washington. Contemporary amenities like built-in workstations, 24-hour room service and a state-of-the-art fitness center add comfortability to this glamorous property.
For dining, the hotel's signature restaurant is the beautiful and imaginative Jardenea. Derived from the French word for garden, Jardenea offers farm-to-table cuisine sourced from local and sustainable growers, fisheries, foragers and artisans. Jardenea Lounge serves hand-crafted cocktails along with a menu of salads, shareable plates and cheese presentations.
When it's time to retire for the evening, guests can select the wellness experience of Pure Rooms to promote self-improvement during their stay. Pure Rooms eliminate contaminants with purified air and allergy-friendly bedding for an unparalleled guest room experience. When you stay in a Pure Room at the Melrose Hotel, you'll discover a guest room of choice in one of Washington's finest boutique properties.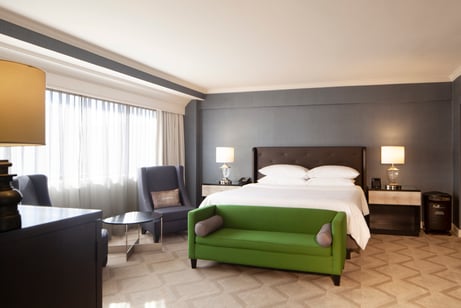 Discerning travelers choose Pure Rooms to promote well-being, health and vitality away from home. Come experience the difference that wellness can make during your next visit to Washington at the Melrose Georgetown Hotel.