For the next segment of our "Road Trips With Pure" series, we head a bit further south to San Francisco and Northern California. The greater Bay Area is one of the most diverse parts of the country, a place where you can discover art, music and cuisine from all over the world. It's also an especially scenic region to visit, from spectacular views across the Golden Gate Bridge to the serene natural beauty of Monterey Bay.
If you don't happen to live nearby, the Oakland and San Francisco International Airports are both convenient waypoints for this fun and inspiring road trip. Locals and tourists alike are sure to find something new and surprising with Pure Rooms around the Bay Area.
San Francisco
Our trip begins with the energy and excitement of downtown San Francisco where you can experience countless museums, theaters, galleries and other cultural attractions. Explore the city's iconic Haight Ashbury and Pier 39 or take a day trip out to historic Alcatraz Island.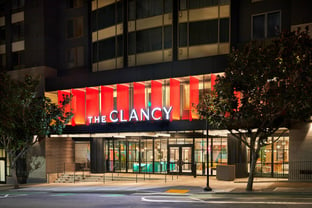 You'll enjoy a hypoallergenic environment and peace of mind with Pure Rooms at the Courtyard San Francisco Downtown. Also known as The Clancy, the hotel is one of the newest in San Francisco, featuring striking and sophisticated decor. Attractions like Union Square and the San Francisco Museum of Modern Art are just a short walk away.
Santa Cruz
Our next stop takes us south to the eclectic beach town of Santa Cruz. It's quicker to take the highway but why not take your time and savor a scenic drive along Pacific Coast Highway for some breathtaking ocean views?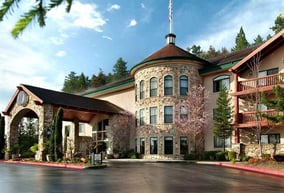 You'll want to check out Santa Cruz's gorgeous beach, of course, but also the boardwalk, pier and scenic waterfront walk along the East and West Cliffs. After perusing the town's quirky shops and cafes, Pure Rooms are available to promote well-being at the Hilton Santa Cruz/Scotts Valley.This rustic retreat is nestled in the foothills of the Santa Cruz Mountains near Henry Cowell Redwoods State Park with a forest-lined pool and tree-top views.
Monterey Bay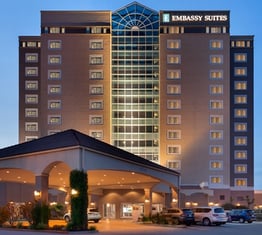 Continue down Route 1 to the other side of Monterey Bay, where you can rejuvenate with a guest room of choice at the Embassy Suites Monterey Bay Seaside. The hotel features local and sustainable seafood at Silver Tide Bar & Grill as well as Pure Rooms, which provide a holistic wellness experience during your stay.
Nearby Monterey is a chic, stylish town with plenty of upscale boutiques and restaurants to explore. Don't miss favorite attractions like Cannery Row and the world-class Monterey Bay Aquarium before heading back towards San Francisco.
Santa Clara
Turn north on Route 17 through the Santa Cruz Mountains to arrive in Santa Clara, the heart of California's Silicon Valley. Santa Clara is not only a great place to do business, it's also ideal for exploring San Francisco's South Bay, including nearby Palo Alto and downtown San Jose.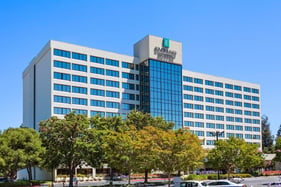 Pure Rooms at the Embassy Suites Santa Clara Silicon Valley eliminate contaminants using the most advanced anti-viral and anti-microbial technology. Wake up to a complimentary hot breakfast and relax at the indoor pool to unwind after the long drive.