The coronavirus pandemic has reinvigorated concerns over air quality and air purification. Air purifiers have been around for decades and were used primarily to remove dust, smoke and allergens from the air we breathe. While these irritants pose genuine concerns for both general health and the health of individuals with chronic lung conditions, COVID-19 has made your choice of air purification systems often, quite literally, a matter of life and death.
We know that the coronavirus is transmitted almost exclusively through respiratory droplets, which are the microscopic particles that float through the air while we are talking and even just breathing. Face masks are a key component in limiting the spread of these respiratory droplets but issues around compliance and wearing the mask properly mean that they cannot guarantee a completely safe environment. There is no magic bullet for preventing the spread of the coronavirus and proper air purification represents one more essential layer in achieving this goal.
HEPA Air Filters
For years, High Efficiency Particulate Air (HEPA) filters have been the gold standard for defining effective, quality air filtration. These superfine filters were a major improvement over their predecessors with their ability to filter out particles down to 0.3 microns in size. Air purification systems that used a HEPA filter were now capable of removing not only dust and smoke but also bacteria, allergens and other particles that had previously gone unchecked.
The problem is that HEPA filters cannot filter particulate matter smaller than 0.3 microns in size, which pertains especially to viruses. At approximately 0.125 microns in size, the coronavirus simply slips right through 0.3 micron filtration and continues to circulate. Air filtration works exactly like a sieve or household colander; if the holes in the filter are larger than the substance you want to remove that substance will pass through rather than being captured.

DFS Technology
Pure air filtration systems utilizing Disinfecting Filtration System (DFS) technology present an advancement over HEPA-based systems because they can filter particulate matter down to 0.007 microns in diameter. This is much smaller than the coronavirus, which means that our purifiers can effectively trap the coronavirus and prevent it from spreading through the air. Outside of scientific and other highly specialized research applications, Pure filters are the best that are commercially available for your home, office or organization.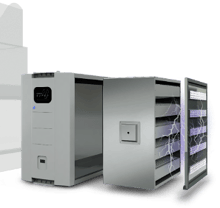 With its ability to filter ultrafine particles and capture the coronavirus, Pure's air filtration technology is effective in fighting the pandemic. The DFS technology has four times the filter loading capacity than a typical HEPA rated filter, capturing 99.99% of particles at 0.007 microns. Designed to fit your space needs and technical requirements, Pure's air purification systems are the most efficient available. Contact Pure Wellness to learn more about DFS technology or to explore adding superior air quality to your home, office or other spaces.